Woodcrest Preschool: Celebrating 50 Years of History
Woodcrest Preschool was founded over 50 years ago to provide children with a strong academic foundation, a love of learning, exploration, and empathy for others. Today Woodcrest Preschool has evolved using 21st century skills to expand its mission. In addition to lot's of play and art, our classrooms are filled with stem learning, mobile makers spaces, coding, and more. You are never too young to learn at Woodcrest School.
For over 50 years, the incredible teachers at Woodcrest Preschool have provided children starting at 18 months with a warm and nurturing environment where kids feel safe to grow. Our curriculum is specially designed by our teachers using all the latest in early learning best practices to prepare children for the next chapter in life. Our curriculum is filled with a healthy mix of academics, play, routines, yoga, gardening, cooking, music, art, math, pre-reading, social studies, animal exploration, and much more. The most important part of early learning is having fun and learning to work with others. We use monthly themes that allow our teachers to showcase their creativity and passion for teaching the material to our kiddo's.
The National Association for the Education of Young Children is the world's largest organization of early childhood professionals. The NAEYC offers an accreditation system for early childhood programs based on research, development, and education of young children. The system contains standards that were created by experts and educators from around the country. The standards define what NAEYC believes all high-quality early childhood programs should provide. All Woodcrest Preschools Are NAEYC Accredited.
NAEYC has set 10 standards for early childhood programs that can help families make the right choice when they are looking for a child care center, preschool, or kindergarten. The standards and criteria are also the foundation of the NAEYC Accreditation system for early childhood programs. To earn accreditation, programs must meet all 10 standards.
These Are the Values That We Uphold Daily
Woodcrest Preschool is a strong believer in empathy and compassion for others. The school utilizes social and emotional development programs to provide lifelong skills that help children acquire and apply the knowledge, attitudes, and skills necessary to understand and manage emotions.
We celebrate and appreciate every single age-appropriate milestone in your child's life. Children are appreciated for their unique talents, backgrounds and learning styles.
Even children as young as age two can begin the process of learning to care for their own bodies and being responsible. At Woodcrest, our students LOVE being helpers and learning to do things on their own.
One key way to engage students in learning is to ensure the material speaks to them. Our curriculum is carefully designed to peak each child's interests and fascinations, give children choices to learn in a way that is comfortable and age-appropriate.
Families come first at Woodcrest Preschool. We work closely with parents/guardians to provide superior communication. Through our Procare Phone App, parents/guardians are provided with daily communication of your child's preschool experience, pictures of exciting activities, and a means to contact the teacher or director. The Procare App engages parents/guardians through photo emails and texts.
Procare is a Leader in communicating with parents/guardians about what is going on in their child's classroom. Daily pictures and activity updates are just a few of the features.
We care about your child's safety at Woodcrest Preschool and have partnered with Procare, the leading preschool software company, to check in all parents/guardians through the phone app.  All parents/guardians also need to check-out using the app on a daily basis.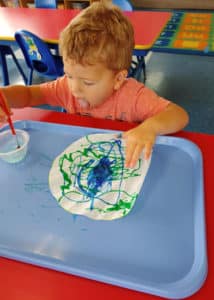 Each month, Woodcrest Preschool students learn about famous art masters. Teachers provide information on the artist's background, read books, and showcase some of the most famous work. Children are then challenged to create their own master art projects using the techniques and materials of the artist. Art helps build motor skills, language development, decision making, and so muc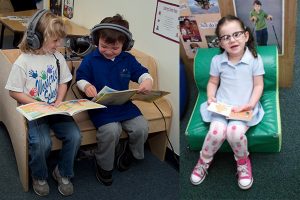 Woodcrest Preschool chooses an author of the month to help children connect with a story in a deeper way. Students develop and fine tune reading skills, build critical thinking skills, improve writing techniques, and have fun learning more in depth about what they are reading.
Woodcrest works with Reptacular Animals to showcase animals from around the world. Each month, children learn about geography, habitats, eating habits, and most importantly get to interact with the animals. The program teaches our students about caring for animals and helping to ensure that animals never become endangered.
We are located in Tarzana and are nearby and serve the following areas: